Progressive Lenses
The progressive lens is a multifocal lens that is the most accommodating multi-distance vision for presbyopia patients. The first progressive lens was introduced in 1959 by Bernard Maitenaz. As the name "progressive" indicates, the progressive lens progresses an RX prescription from a near prescription leading to the distance prescription including every prescription in between. Cosmetically speaking, progressive lenses are the most aesthetically pleasing multifocal lens by making the progression of prescriptions virtually seamless and showing no immediate evidence of multi prescriptions on the lens to an onlooker.
The progressive lens has a visual field anatomy of an hour glass (see image below). The two dominant prescriptions (distance and near) have a wider field of view. The progression in between has a narrow field of view leaving a peripheral distortion.
There are premium progressive lenses to help minimize peripheral distortion. Wave front technology was introduced to spectacle lenses as a way to minimize overall distortion. Wavefront is commonly used as a diognosis of the eyes Freeform progressives have also been introduced as a new technology. By placing the ADD power and entire prescription on the back of the lens freeform lenses claim to eliminate front curve distortion. By eliminating front curve distortion the freeform design considerably increases all visual fields of view including the intermediate, hence minimizing peripheral distortion.
Below are some pros and cons for progressive lenses and a list of some of the leading manufactures along with a link and there respective progressive designs.
Pros and Cons of a progressive lens
---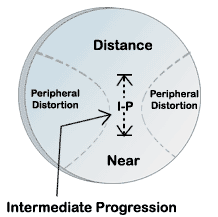 ---